Although biking has become more recognized as a viable form of transportation, it still viewed as an inferior mode of travel. If biking is your only means of transportation, it may be a wise idea to avoid certain cities in the United States.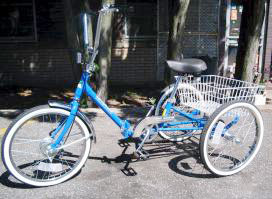 Dallas Texas: Dallas, Texas is surprisingly one of the biggest cities in the continental Untied States. There is a large cycling community that often bikes outside of the city's limits, in order to escape the dangerous streets. Riding around the city of Dallas is a demanding task that requires steel nerves and a cool head. The majority of Dallas is compromised of multi-lane highways and crowded streets and the sheer density of automobile traffic is daunting for most bikers to wade through.
Memphis, Tennessee: This is one of the few cities without a single bike lane. The government has rejected and ignored almost every request and suggestion from popular bike shops and clubs. The roadblock is the encumbered bureaucracy that limits adequate bike infrastructure. Transit is difficult for any rider on a cargo bike. In cities that have better infrastructure, cargo bikes can weave through the city at an efficient pace, but in cities like Memphis, these bikes have no protected roads or lanes.
Miami Florida: In theory, Miami is perfect for bikers. The perpetual sunshine and flat terrain yield the perfect conditions for any cyclist. Ironically, the city of Miami has taken little action towards creating safer streets for bicyclists. Florida ranks the second highest in bike deaths, in comparison to the other states. A large portion of the city's lower class depends on bikes for transport. There are many cargo bike delivery services in Miami that risk life and limb to transport goods at a cheaper cost.
Suffolk County, Long Island, New York: Suffolk county has consistently ranked as one of the most dangerous regions to ride a bike, in the entire country. The small area of Suffolk accounted for almost 24% of all the bike deaths in the state of New York.
Cargo Bike
If you are interested in learning more about biking in cities or cargo bikes, it is best to contact a local shop in the area with questions. Biking through cities is an excellent way to save cash, be environmentally conscience, and stay fit. It is important to advocate for save bike lanes, in order to save lives.
Related Reading