When people hear the word tricycle, they tend to be reminded of children's bikes that have one large wheel in the front and two smaller ones in the back. The design makes balancing on a bike as comfortable as possible, and so this is one of the main reasons these bikes are given to kids. At Worksman Cycles, we believe in bringing natural balancing and stability to adult sized bikes. We proudly create adult tricycles in different shapes and sizes.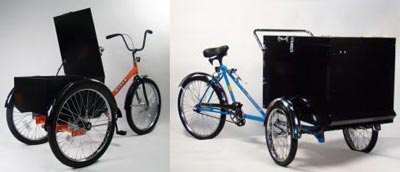 These bikes are perfect for older riders who are active but need a little bit of help balancing.
These tricycles are perfect for people with minimal movement of the hips, knees, and ankles. Considering the bikes are built with step-through frames, they are easy to mount, ride, and dismount.
The bikes also work well for individuals who are slightly overweight. Because of having extra support in the rear, standard weight loads for adult tricycles range from 250-400 Lbs.
Trikes are ideal for those who travel with goods on their bike. The frame allows for the easy mounting of large baskets between the back two wheels.
Lastly, these bikes are perfect for those who want to commute through urban and suburban areas casually. Without having to worry about balancing, riding becomes easier and much more carefree.
At Worksman Cycles we have many adult tricycles for sale. Shop our online catalog or come and visit our showrooms.
Cargo Bikes
In Major Cities around the globe, cargo bikes are becoming the preferred method of delivery for lightweight packages and goods. Although this method of biking is extremely efficient, there are operational hazards that come along with the activity. Riding at night is a dangerous action, but if you follow some simple guidelines you can be assured that delivery of your parcel will on time and free of harm.
Related Reading: