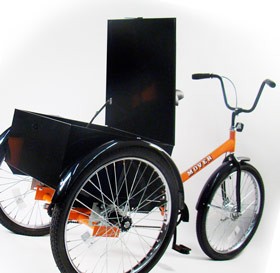 Because of being able to haul heavy cargo loads easily, a cargo bike serves many practical functions for people who have different needs. Our cargo bikes are designed for businesses who need to quickly move gear within a city or inside of a large factory space. Some of the Cargo bikes we build are:
Model LGP-S: This bike is made with a unique front piece for storing pizzas for deliveries. Using "steer-tru" technology, we able to affix a steel cabinet to the frame. Steering with this bike is smooth.
M2626-CB: This bike is considered the standard in heavy-duty industrial tricycles. Between the two back wheels is a steel cargo container with a lid (able to be secured).
Super Delivery Trike (model SUD): This is a front-loading tricycle that is super versatile. With the two wheels in the front, steering in city setting could not be more comfortable. Also, by placing the cargo bin in the front, we can add a larger container.
For more information about our cargo bike catalog, please give us a call. We also specialize in recreational bikes and three-wheeled bike (adult tricycles). We can even do custom orders. If you are looking for adult tricycles for sale, let us be your first stop.