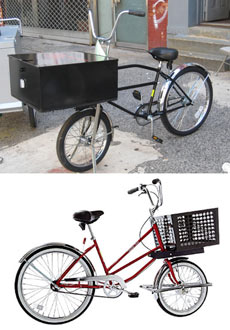 Simply put, a cargo bike is a human power vehicle that is designed to carry large loads. Cargo bikes were initially created with the intention of helping local businesses transport goods and tools from place to place. Tradespeople used these three-wheeled vehicles as a means to conduct business. These types of bikes are commonly used throughout Europe (Denmark, Sweden, and Netherlands) and Asia (China, Thailand, and Japan). Despite their practicality, they are less frequently used in the United States.
We pride ourselves on designing and building all our cargo bikes right here in the United States of America, and we want our bikes to help local businesses. As means to support different types of companies, we create a set of varying cargo bikes (as well as custom designing bicycles for special needs).
One of our most frequently purchased style of cargo bike is the Front Loader, which we call the super delivery trike. The bike has a regular sized back wheel and two small front ones that have a large front cabinet placed between them. Steering on this adult tricycle is more comfortable than a traditional two-wheeled cargo bike.
Our low gravity models are perfect for small and quick deliveries that must be made on busy streets. The bike has a traditional looking two-wheel style, but we place a large basket in the front and integrate our patented 'Steer-tru' system.
If you are looking for adult tricycles for sale, please let us be your first call.
Related Reading for Cargo Bike