Shopping for a new bicycle can be difficult because of all the types, styles, and variations. It is important to understand your riding needs in a bike before shopping so that you can get the best bicycle for your life style. Below, we will be going over some of the essential characteristics of different bike styles.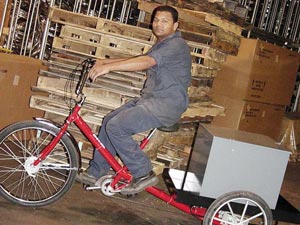 A road bike is designed to move quickly on smooth pavement. Tires tend to be skinnier than mountain bikes, and handlebars can have a unique shape (drop handlebars).
A touring bike is a variant of the road bike. The frame design puts riders in an upright position, which is more comfortable for long-distance riding. Their gear range is lower than that of traditional road bikes, which makes it easier for these bikes to climb steep hills.
Mountain bikes are designed to take riders off the pavement. These bikes have unique wheels and shock absorbers to make riding on rough terrain easier. Mountain bicycles have a very low gear range so that riders can climb hills and mountains.
Cruiser bikes are perfect for casual riding. These bikes keep comfort in mind, both regarding seats and rider position (upright). Tires on these bikes are wide, which allows for better balance. Most cruisers do not come with gears so climbing hills is more difficult with these bikes.
Hybrid bikes mix road and mountain bike features and combine them.  These bikes are perfect for casual riding as well as light trail riding. They can be used for short commutes and errands in town.
Cargo Bike
There are so many choices an individual can make when purchasing a new bicycle. Regardless of the bike you get (i.e., cargo bike or three-wheeled bike), get the one that fits your riding style
Related Reading