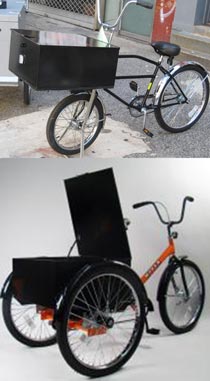 Following bicycle riding rules and regulations in NYC is important and can help to keep you alive while riding. NYC is a fast moving city, and so knowing where to ride and how will keep you safe. Below, we outline some of the basic laws and regulations of NYC bicycling. It is first important to note that these rules apply to all bicycles, including 3 wheeled bikes, cargo bikes, and adult tricycles.
Under most circumstances, riders are not allowed on city sidewalks. This privilege is reserved for children and bikes with wheels less than 26 inches in diameter.
Just like while driving a car, texting and riding is not permissible in NYC. In fact, the city requires that drivers must have both hands on the handlebars.
Although not against the law to ride on streets without bike lanes, the city highly encourages using mostly bike lanes. Riders can use other roads for access, turns, and safety.
Riding in parks is restricted in NYC to only designated bike lanes. Riders should dismount and walk bikes if there are no bike lanes.
If using a bike for business purposes, the bike must be identifiable by name and identification number.
Bicycle riders are required to keep one ear free from headphones while riding. Riders are only allowed one ear bud.
Bicycle riders are subject to all signs that motorist use. Riders must stop at stop signs and red lights.
Bicycle riders are required to utilize hand signals for turning and stopping.
All bicycles must be properly equipped with night riding gear, including lights and reflective tape.
Regardless of why you ride, safety is the most important thing to consider. Knowing the rules of your city can help you stay safe, whether you ride an adult tricycle, cargo bike, or 3 wheeled bike.