In major cities around the world, families are trading in their cars for the more affordable cargo bike.  At first, cargo bikes typically catered to a novelty group, primarily based in Europe, who needed bicycles to transport large items.  Today, parents are using these bikes as a cheap and easy solution for transporting their children around a bustling city.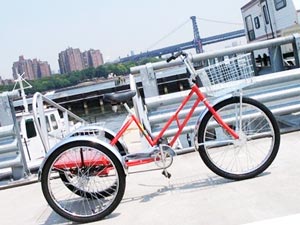 There are two main types of cargo bikes: long-tails, which resemble an ordinary bicycle, but have a large transport rack that extends over the rear with; or the Dutch style Bakfiets, which have a cargo box mounted in front of the handlebars. Both are excellent vehicles for transporting children, pets, and groceries around a metropolitan area because of their storage and seating capacity.
Many American made cargo bikes are custom-designed for particular families and regions, which makes purchasing and designing a bike a much easier task.  These bikes are statistically safer than cars and are also much quicker when navigating dense city streets and traffic.  With an American made cargo bike, you can safely transport your loved ones from school to activities all while gaining an impressive workout!