When you order a package, it often gets delivered to you in a special truck. But, there is another method that has been gaining popularity over the recent years. In many cities across America, cargo bike are being used as the preferred delivery vehicle.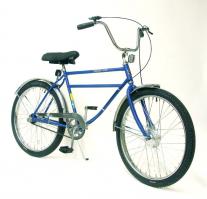 Cargo bikes are specialized bikes that are designed to carry large quantities of cargo. These bikes can handle a great deal of weight, are environmentally friendly, and are an incredibly quick form of transportation. When most people think about bicycles, they don t think of them as adequate vehicles for delivery services. Contrary to popular belief, cargo bikes can carry loads over 100 pounds, without any issues. Some cargo bikes are even outfitted with electric motors that allow the cyclist to haul more weight and conquer hills. These bikes can tow all forms of items, ranging from couches to fridges!
In major cities like NYC, it has been proven that cargo bike delivery services are much more efficient than the average truck. Cargo bikes significantly reduce the density of truck traffic in cities, which alleviates the burden of sitting in gridlock rush hour. In addition to their quickness, they are also significantly cheaper than a delivery truck in both upfront cots and maintenance fees. When compared to the costs associated with maintaining a fleet of delivery trucks, cargo bikes are much more economically appealing. Trucks require habitual gas and maintenance costs, which significantly adds up over time. Cargo bikes require next to nothing to operate and the repair costs are a fraction of what it costs to fix a truck.
One of the most significant benefits of cargo bikes is their positive economic impact. Bikes are inherently good for the environment. Every car, truck, and motorized vehicle contributes to green house gas emission and air quality degradation. By switching to cargo bikes as a primary source of delivery, you can limit pollution and have a cleaner and healthier environment.
Most commercial delivery trucks require specials licenses to operate, which makes it difficult and more expensive to hire employees. As for cargo bikes, any body can be hired. The current job market is abysmal, and hiring cargo bikers helps generate jobs for those who don't hold a valid drivers license. In addition to adding more jobs to the market, cargo bikes also create healthier employees. It is proven that cycling is incredibly beneficial for the body: it reduces stress, improves cardio, and builds muscle tone.
Why not make the switch to cargo bikes today!
Cargo bikes: